GARAGE MAGAZINE no.09 - AR APP
︎ I was lucky enough to team up again with one of my favorite clients and collaborators. The Mill worked for the second time with Chaos Fashion, Phil Poynter and Pat McGrath for GARAGE Magazine's Fall/Winter 2015 cover, starring Anna Ewers.
When readers scan the cover with the GARAGE Magazine App (Apple / Android) a flutter of CG butterflies created by The Mill+ team is awoken, slowly and mysteriously covering the beautiful and haunting portrayal of Anna while paired with the bautiful classical score by Michel Goubert.


CLIENT: Chaos Fashion/Garage Magazine
CREATIVES: Chaos (Katie & Charlotte) & Pat McGrath
PHOTOGRAPHER: Phil Poynter
CD MILL+: Andreas Berner



POST / VFX: The Mill+
EP: Sallyann Houghton / Grace Kelly
VFX PRODUCER: Anna Borysewicz
3D LEAD: Raymond Leung
DESIGN: Jeff Buoncristiano, Ian Bradley
3D: Justin Diamond, Ivan Joy, Katie Schiffer
3D SCANS: Travis Reinke
Creative Director Andreas Berner explains "We wanted to make a low key statement and not make the animation overly complex. So we came up with a simple, flocking animation of butterflies that assemble on the cover. The simplicity and organic quality is something people emotionally connect to."


The 3D team created two different kinds of butterflies and looped them a multiple times until they consume Anna on the cover.


But it didn't stop with the cover. The GARAGE Magazine App unlocks a wealth of virtual content inside the magazine as well.


The Mill 3D team created a CG Tory Burch clutch that pops out of the page...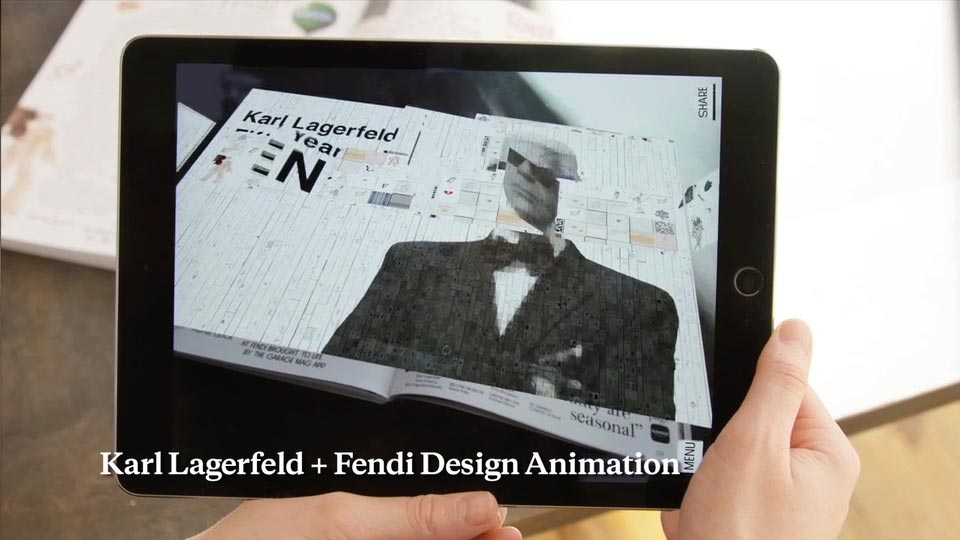 and a Karl Lagerfeld design animation that jumps out of the magazine to celebrate his 50 years at Fendi.


On rare occasions (or not so rare :) I end up on the box and animate and texture myself - it's fun.


︎ back
︎next